The Water of Life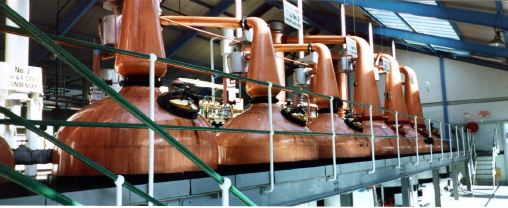 The spirit and low wine stills of Laphroaig
I'm more than a little fond of single malt scotch. I've traveled throughout Scotland visiting distilleries, I have my own TV program, The Malt Show, which features single malts and I have a personal collection of over 80 bottles. My collection is a "drinking" collection, where even my most rare and treasured specimens will one day be consumed. To my mind, the distiller's art can only be appreciated by consuming the product, thus it is pointless to accumulate unopened bottles unless they are so rare as to be investment-grade collectibles. If you're interested in that type of whisky, then Christie's or Sotheby's is where you need to be looking!
There are several web sites related to single malts and whisky that are well worth visiting. The Single Malt Tour is first and foremost among them. It's an informative site that has some facinating information about single malts and an extensive library of tasting notes. There are also several good sites run by trade organizations and distilleries. The Scotch Whisky Association has a low-key but informative site that's rather bookish. Scotchwhisky.com is more graphically intense, featuring unique tasting notes, a Q&A section and some good information pages. The Malt Whisky File promotes the book of the same name and is a part of Whiskyweb, which also promotes Blackadder single malt bottlings.
Be forewarned that these sites are fairly graphic-heavy and/or are in the U.K. and may suffer from network lag.
Once you've bought one of everything currently bottled, then you need to join the Scotch Malt Whisky Society, whose specialty is cask-strength bottlings of rare and unique malts.
There are some great sites that are maintained by fellow collectors/drinkers, Among them Ulf Buxrud in Sweden whose collection is not only extensive, but nearly complete! Bozo's Whisky pages, despite the name, are a great resource for finding other sites, although my own Malt Show Links are no slouch either! The P.L.O.W.E.D. Society someplace up north, who seem to be "bar" drinkers, but still have a lot of fun with it. Ken Marsh, who presents extensive commentary, Andreas Sorgatz who has pictured his collection as well and Christian Ratliff, without whom I wouldn't have found many of these other collectors!
No single malt drinker should be without a reminder of his favorite beverage and to that end, I've created a small (64K) graphic tile suitable for use as a background. It is taken from my larger collection photo and displays 4 bottles (Port Ellen, Caol Ila, Springbank 100 proof and Clynelish) prominently.
There are also several places to buy Single Malts on the web! If you're curious just how much a collector is willing to shell out for some of these goodies, check out the price lists at Sam's Wine Warehouse in Chicago and D&M in the Bay Area. The Malt Advocate is also and interesting source of information on whisky, whiskey and beer.
Last updated: 08/21/99
---
Return to Bev on the Web!