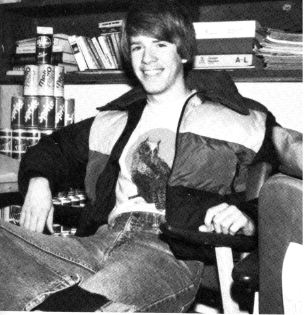 Bev at home in Lovett 210, circa 1979
I originally enrolled at Rice as an Architecture student in 1979, but quickly found that Architecture and I had some fundamental disagreements. Architecture is not the "lone artist" sort of profession one thinks, (since great architects like Van der Rohe, Johnson, Pei and Wright are the exceptions rather than the rule) but is instead a communal profession, which really didn't suit me at the time. I didn't have the good sense to chuck it all right then and go do something different, so by the time I decided that Architecture wasn't going to work out, I had practically finished my degree. I graduated with a BA in Art and Art History ('84) specializing in film and photography, fully intending to get a Bachelor of Fine Arts the following year. However, my job at the Rice Thresher as Advertising Manager (not to mention my new romance with my wife-to-be) kinda interfered with my studies. It was a fun year in any case.
The following summer I tried to parlay my Thresher job into a position with an advertising firm with little luck. Running short of cash, back in Houston and unwilling to suffer the poverty of a fledgling artist, I went to work for Banana Republic as a Travel Book specialist. (That was before they became too trendy for words and still thought of themselves as a travel clothing company instead of a more expensive Gap store.) It was a good job, one that began as great fun and slowly eroded into the usual corporate grind. After three years of sacrificing my social life to retail sales, (and witnessing the destruction of B.R.'s corporate culture) I heard of the Pilot Development Program at San Jacinto Junior College. The PDP supposedly led to a job with Eastern Airlines as a Flight Engineer. I had always wanted to fly for an airline and this program (known as ab-initio training) seemed the ideal chance. I left Banana Republic and took a semester of classes, learning Autocad to support myself, which in turn led to a 4 year job at M&H Enterprises drafting while I attended ground school and took flying lessons. I was very successful at school, earning straight A's (well, one B) along with my Commercial license with IFR and Multi-engine ratings. However, by the time I got my A.S., Eastern had gone out of business, Continental had taken over the program and the job was now co-piloting ATR-42's for Continental Express. (Which was still fine by me.) Only problem was, Continental wasn't hiring when I graduated, having just gone into bankruptcy for the second time. While I waited for them to sort out their situation, I took advantage of several classes I had taken in database languages and computing, working for Rice cleaning up conversion data for the human resources system. As my tasks became increasingly complex, I gained considerable understanding and skills in both Oracle and Banner, eventually leading to my current position as a Systems Analyst.